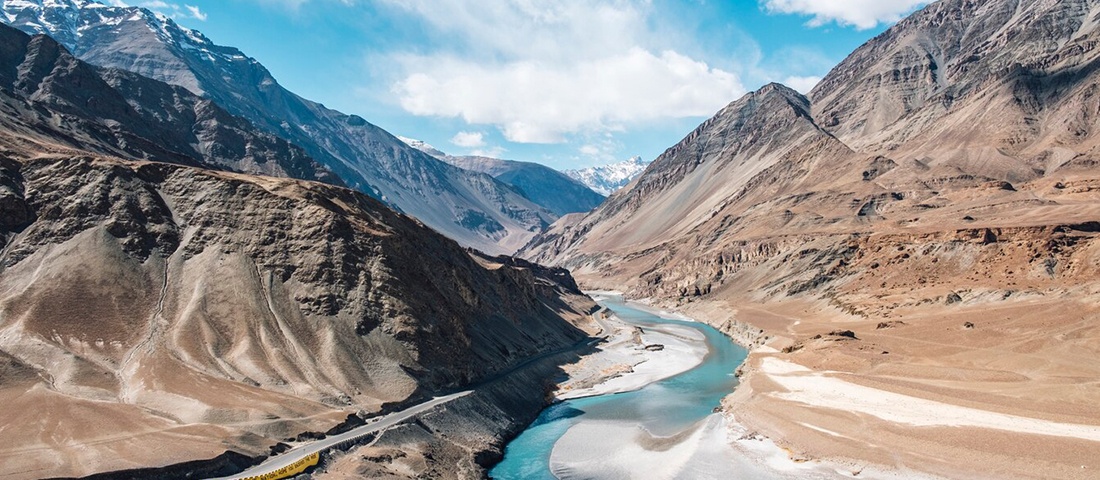 Ladakh is one of the most popular destinations in India. With its stunning landscape, diverse culture, and amazing food, it's no wonder so many tourists visit every year. But with so many people coming to Ladakh, it can be difficult to find a spot that's not overcrowded. To help make your trip easier, we've put together a list of the best times to visit Ladakh; based on data from various travel agencies and other sources. Scroll down to see what time of year is best for you and start planning your trip!
During the month of April to Mid May
This month, April, marks the beginning of the tourist seasons in Ladakh and everyone flocks here in great numbers. The temperature is Maximum 15° C, Minimum -1° C during this time. The heavy snowfall that stopped during March has now stopped and the summertime has taken over this whole place. One can see all the tourist places, hotels, homestays, and guest are welcomed with opened hands. If you are visiting Ladakh during April – May then opt for flights as all the roads and the passes do not open at this time. The weather, however, is still not sunny and warm as the usual summers. Leh Kushok Bakula Rimpochee Airport is the main airport of the area. The flights are directly connected from Delhi, Srinagar, and Jammu by the flights run by Air India, Go Air and Jet Airways.
During the month of Mid May
During the month of Mid May, Ladakh is a beautiful place to visit. The weather is warm and the skies are clear. The best time to visit Ladakh is during this time of year when the temperatures are mild and the landscapes are lush and green. There are several places in Ladakh that are worth visiting during this time of year, such as Leh Palace, Thiksey Monastery, Kargil Fort and Taktser La Pass. Leh Palace is a beautiful location that overlooks the city of Leh. The Thiksey Monastery is one of the most important Buddhist monasteries in India and it is located in Thiksey village near Leh. Kargil Fort was built by British officials in the late 1800s and it sits at an altitude of 16,000 feet above sea level. Taktser La Pass is one of the most scenic locations in Ladakh and it offers stunning views of Mount Kailash and Lake Manasarovar.
During the month of June
The month of early June is one of the best time of the year to visit Leh by bike or road. If you wish to enjoy the snowy roads and mountains en route this is the best time to go for a holiday in Leh Ladakh. By mid-June, the snow begins dissolving so you will head out to some of the most beautiful lakes in Ladakh. Visit some of the monasteries and the stupas here and also get acquainted with the local people. And the best of all you can enjoy the Saka Dawa, Yuru Kabgyat, Hemis Festivals which are held in this month.If you are visiting by road then reach Ladakh through Kargil from Kashmir Valley, which is around 434 km. This route remains open from early June to November. 473 km long Manali-Leh road is open from mid-June to early October.
During the month of July to August
During the month of July to August, temperatures in Ladakh hover around 27 degrees Celsius. The sun is shining brightly almost every day and the weather is dry, with only a few showers possible. This makes for perfect hiking conditions as the trails are not muddy and the altitude is less than 5000 meters. Additionally, there are very few tourists during this time which gives you an authentic experience.
During the month of September
Ladakh is a beautiful region located in the Himalayas. The best time to visit Ladakh is during September because the weather is warm and dry. There are also less tourists in the region at this time, which makes it more peaceful and enjoyable.
During the month of October
The best time to visit Ladakh is during the month of October. This is because this is the time when the weather in Ladakh is temperate and pleasant. The days are warm and sunny, with a mild breeze blowing throughout the day. The nights are cool and comfortable, with lows around 14 degrees Celsius. The landscape during this time is green and lush, with a few patches of snow on high mountain peaks.
During the month of November
November is a month that is known for its cold weather. The temperature at this month is Maximum 7° C, Min -6° C. Temperature begins dipping under the point of freezing, exceptionally amid evenings. During this time if you are planning to travel Ladakh by road, the highways will be closed. So it is best to take a flight if you are planning to visit Ladakh at this time. All the beautiful lakes like the Pangong will be frozen so camping is not a good option at this time. At some places, there can be a problem of water supply during this month. You can also enjoy the famous Thiksey and Padum Festivals are held in this month. Also, meet the local people and enjoy some delicious cuisine made by the Ladakis.
During the month of December
For tourists visiting Ladakh during the winter, October and November are the best months to visit as the weather is warmer and there is less snow. However, December is by far the coldest month in Ladakh and it is very difficult to travel in this time of year. Roads connecting Ladakh with other parts of India are mostly closed in December, making it the only month when tourists cannot visit many of the highlights in the region. The temperatures remain cold throughout December with a maximum temperature of 2 degrees Celsius and a minimum temperature of -11 degrees Celsius. Most roads and highways are closed during this time, making it difficult to get around. In addition, ice sheets can be found on lakes and waterways which make travelling hazardous. However, if you are willing to brave the cold, you can enjoy the Losar and Golden Namchot festivals held during this month.
During the month of January
Ladakh is well-known for its adventure sports and during January, the weather conditions are very chilly which makes survival and acclimatization difficult. The temperature is usually around -2 degrees Celsius and there is constant snowfall which makes trekking very tiring. The best time to visit Ladakh during January is when the lakes get filled with strong ice which makes trekking very interesting. Some other popular activities in Ladakh during this time include the Snow Leopard Trekking.
During the month of February
February is a beautiful month to visit Ladakh. The roads will be closed, but flights will still be available. You'll have to be prepared for very little water since it will solidify and there may be power outages for six hours. However, the snow is amazing to look at and the monasteries have festivals throughout the month.
During the month of March
Leh Ladakh is one of the most popular destinations in India. It has a lot to offer tourists, including amazing views, great hiking opportunities, and a wealth of cultural attractions. The temperatures can be quite extreme during different times of the year, so it's important to know what to expect.During this time, the temperature is generally around 6°C, but can reach up to 10°C in some places. The days are usually sunny and mild, with occasional showers. However, the evenings are cold and often cloudy. This is not the best time to visit Leh Ladakh if you're looking for a warm-weather destination!
What to expect in Ladakh
Ladakh is a high-altitude region in the Indian state of Jammu and Kashmir. It is known for its stunningly beautiful landscapes, lush green fields, snow-capped mountains, and Buddhist monasteries. The people of Ladakh are very welcoming and friendly. They are proud of their culture and heritage.
If you are visiting Ladakh during the summer months (June to September), expect hot weather with temperatures ranging from 20°C to 30°C During winter (October to May), temperatures can drop below 0°C (32°F). In either case, be sure to bring appropriate clothing and gear for the weather conditions.
When arriving in Leh or Spiti Valley, you will first need to obtain a permit from the local government. Permits can be obtained at the Leh Tourism Office or through trekking agencies in Leh or Spiti Valley. You will also need a valid passport which should be valid for at least six months after your planned departure from India. Keep in mind that most areas in Ladakh are inaccessible during the monsoon season (July to September).
Outside of Leh and Spiti Valley, most attractions open between 9am and 5pm local time, although some close earlier if it's too cold or windy outside. The prices of items like food and drinks inside restaurants vary greatly depending on where you are located in Ladakh – budget around Rs 500 ($10) per day
Activities you can do in Ladakh
If you're looking to escape the hustle and bustle of city life, then Ladakh is the perfect destination. Here, you can enjoy a wide range of activities, from enjoying stunning views of the Himalayas to taking part in some extreme sports.
Ladakh is home to some of the world's most spectacularly beautiful landscapes, with breathtaking vistas of snow-capped mountains and Tibetan settlements nestled amidst green valleys. If you're interested in exploring Ladakh's natural beauty, there are plenty of hiking trails and treks available that will take you to some of the region's most dramatic areas.
But if you want to get your adrenaline pumping, there are plenty of options for extreme sports here too. You can try paragliding or skiing down slopes covered in snow and ice; alternatively, try out rock climbing or rafting on gentle rivers. No matter which activity you choose, be sure to pack your sturdy shoes – Ladakh's landscapes can be punishingly unforgiving!
Where to stay in Ladakh
Ladakh, a region in the Himalayas in India, is a magical place that is perfect for travelers who want to experience nature at its finest. The landscape is rugged and stunning and the people are hospitable and friendly. If you are looking for a remote destination with plenty of natural beauty, then Ladakh is the place for you! Here are some of the best places to stay while visiting Ladakh:
Shey Palace: If you're looking for an extravagant stay while in Ladakh, then consider staying at the Shey Palace. This property features an extensive collection of art and antiques, as well as luxurious rooms and suites. You'll also have access to a number of facilities such as a gym, spa, and pool.
Leh Palace Hotel: Another great option for those seeking luxury accommodations in Ladakh is the Leh Palace Hotel. This property offers stylish rooms with all the amenities you could need, as well as great views of Leh Valley from many of its rooms. There's also a wide range of activities available on-site including golfing, tennis, hiking, horseback riding and more!
Hundertwasser Guest House: If eco-friendly accommodation is what you're after then the Hundertwasser Guest House should be your go-to spot in Ladakh. This guest house features simple but stylish rooms made from organic materials such as woolen blankets and cotton sheets.
See Also