Bandhavgarh National Park

Ranthambore National Park
About the Bandhavgarh National Park
Bandhavgarh national park is one of the most popular and visited national park in India. Bandhavgarh national park lies the state of Madhya Pradesh and is mainly known for its high tiger sighting during safaris. The Bandhavgarh park was also known for highest tiger density in the world, but now the crown has been taken by Corbett national park. But over the years Bandhavgarh has shown a considerable no. of increase in its tiger population and area. According to census conducted in 2005 there were estimated 46 to 52 tigers in the national park but now with the latest census the no.s have increased to 64 tiger.
Bandhavgarh nationa park situated at 197 km away north-east of Jabalpur and has derived its very name from an ancient fort in the area. Bandhavgarh National Park belongs to the Vindhyan mountain ranges of central India. The thick forest of Bandhavgarh National Park sits in a bowl encircled by cliffs and wooded Vindhyan mountains, and its plains have a number of grass and reed covered wetlands where Kingfishers dive and Egrets sit poised, hunch-backed, in the shallows.Up above, vultures nestle in holes in the sheer cliffs.
Bandhavgarh national park consisting of mixed vegetations ranging from tall grasslands to thick sal forest is the home to vide variety of animals and birds. Due to varied topography Bandhavgarh national park provides ample opportunity to spot the majestic Indian tiger and some rarely seen animals like leopard and sloth bear. Due to high wildlife sighting Bandhavgarh national park is becoming popular amongst tourists visiting India. 
Bandhavgarh was declared a national park in 1968. Since then many steps have been taken to retain the wildlife present in the park. Bandhavgarh National Park as an unspoilt national habitat for a variety of wildlife peculiar to the area. This includes gaur (Indian bison), sloth bear, leopard, porcupine, wild boar, sambhar and spotted deer, among others and of course, the tiger.
Bandhavgarh national park has been divided into three zones – tala, magdi and bamera. Tala zone being the most popular amongst the tourists due to its highest tiger sighting. Now the park authorities are looking forward to develop magdi zone by providing more opportunities to spot tiger. Elephant shows are held in magdi zone of the Bandhavgarh national park to amximise the chances of spotting the elusive king of the junlge.
Area: 450 sq. km (Core area: 105 sq. km)
Altitude:  800 m above sea level
State: Madhya Pradesh
Location: Vindhyan mountain ranges of central India
Temperature range:  42°C to 2°C
Annual Rainfall: 1200mm
Best time to visit: February-June (Closed 1 July-15 October)
STD Code: 07653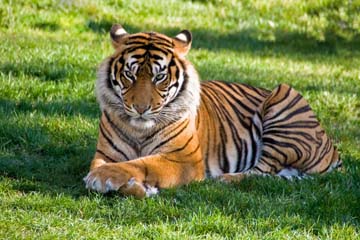 Bandhavgarh Attractions
Bandhavgarh Safari
Bandhabgarh National Park has captured the imagination of many with its diverse wildlife and breathtaking landscapes. THE INDIAN VOYAGE- will guide you find the right tour package that matches your needs, desires, and budget.

Jeep Safari
Morning and evening jeep safaris in Bandhavgarh National Park are escorted by our specialized naturalists for extensive wild life viewing. Your day begins just before dawn with wake up call along with a cup of tea/coffee at the designated time (i.e. if you are not already up by some call from the inhabitants of the jungle). An open Gypsy awaits you to take you even more closer to the nature and to see the majestic tigers. We provide some fruits neatly packed and a bottle of mineral water for you 4 hour safari in the jungle

Elephant Safari
The experience of sitting high a top an elephant in a teak wood chair, through the cool jungle of Bandhavgarh, is an experience you'll never forget. The tour includes air-conditioned hotel transfer, Park admission, safari ride, buffet lunch all in one complete package. Don't miss this great value tour.
an exclusive elephant safari in the periphery areas of Bandhavgarh and Kanha National Park. This elephant safari takes you through the mysterious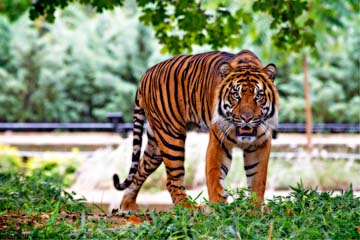 Bird watching
Bandhavgarh National Park is also famous for bird watching. It has more than 140 bird species. The main bird species at Bandhavgarh national park are white browed fantails, steppe eagles, green pigeons, grey malabar hornbills, black and white malabar hornbills (quite a rare sighting), blossom headed parakeets, parakeets, blue bearded bee eaters, green bee eaters, white bellied drongos, owls, Jerdon's and gold fronted leaf birds, minivets, woodshrikes and the lovely paradise flycatchers.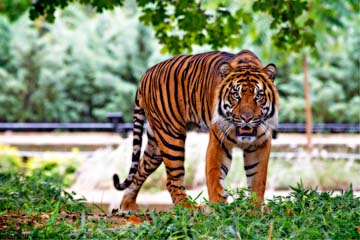 Local Sightseeing
Bandhavgarh Fort
The Bandhavgarh Fort is situated in Bandhavgarhin Umaria district of Madhya Pradesh, India. It is located on the Bandhavgarh hill, rising 811 meters above sea level at the centre of the Bandhavgarh National Park. It is a surrounded by a large number of smaller hills separated by gently sloping valleys. These valleys end in small, swampy meadows, locally known as 'bohera'.
No records are available to show when Bandhavgarh fort was constructed. It is thought, however, to be some 2000 years old, and there are references to it in the ancient books, the "Narad-Panch Ratra" and the "Shiva Purana". The Bandhavgarh fort derives its name from the most prominent hillock of the area, which is said to be given by Lord Rama to his brother Laxman to keep a watch on Lanka. Hence the name Bandhavgarh (bandhav = brother, garh = fort).
Baghel Museum

Located at a close proximity from the resort at Bandhavgarh national park, it houses certain precious belongings of the Maharaja of Rewa who maintained Bandhavgarh as his Shikargah, or a game preserve, a stuffed white Tiger still stands in the museum amidst certain personal belongings of the Maharaja.

Village Tala

To view a day in the life of an Indian village where the pace of life is still measured by the rhythm of the seasons. The humble dwellings, the mud clustered houses, the elders smoking hookahs sitting on a cot, are some of the common scenes which signify that the time stands still in certain areas of the world even today.

Climber's Point – Nature's Beauty

Woody climbers of butea superba and Bauhinia wahlii amidst the giant sal trees offer spectacular view for the tourist