Rating 4.5 – Review 237
Stay at Swiss tents/Alpine tents with attached toilet Welcome Breakfast Lunch Dinner
Bonfire Snacks Morning and Evening Tea Adventure Activities: Rappelling, Flying Fox, waterfall trek, and more Day Treks (if planned / transport extra) Bonfire and Music Outdoor & Indoor Games
Facilities:
Beautiful bamboo/parachute restaurant offering multi-cuisine
Campsites are located adjacent to the motor-able road
Well-built attached bathrooms with English toilet seats
The facility of dome tents for adventure freaks
Separate toilets and bathrooms are also available for large groups
Hot water on request in camps. Geyser in Lodge.
Activities:
Tyre Bridge
Burma Bridge
Trekking
Double Rope
*activities totally depend on weather conditions
Meals included
* No charge for child up to 5 years. 50% charge for child 6-12 yrs. Full charge for child above 12 years
*Cancellation Policy for Reservations: 100% refund in case of cancellation 30 days before arrival date. 50% refund in case of Cancellation 15 days before arrival date. No refund in case of Cancellation within 14 days of arrival date. No refund in case of cancellation because of weather or roadblocks
Camping tours
Camping in Pangot Nainital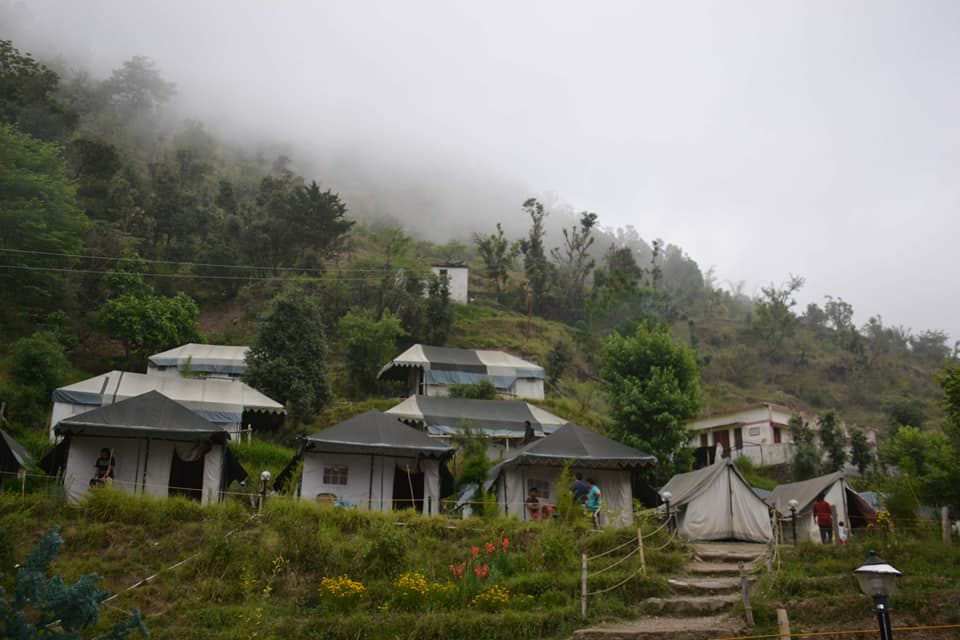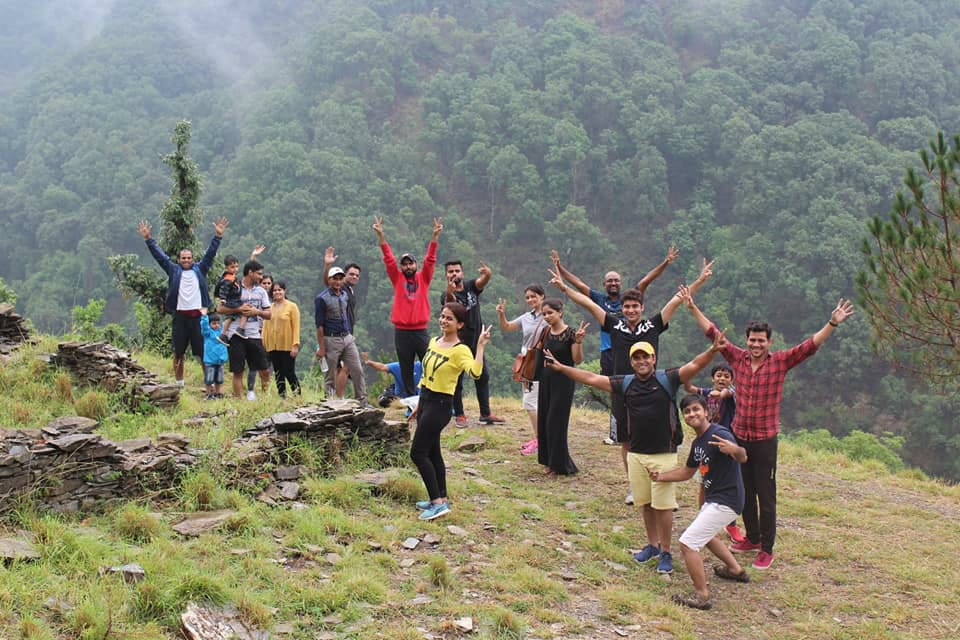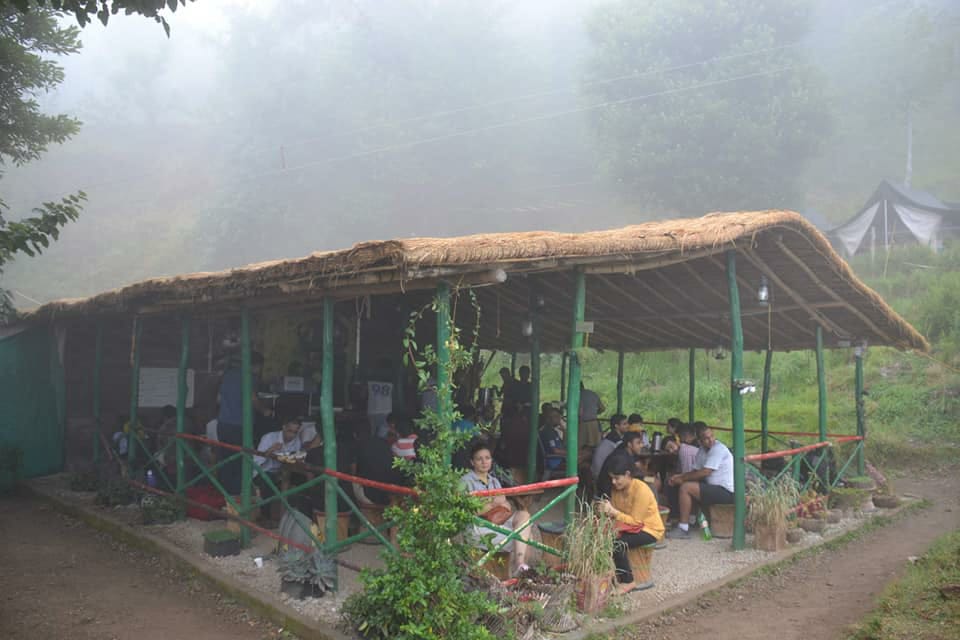 Previous
Next
Best Camping in Nainital
Outside In Nainital Pangot Camping Nainital: Top 10 Sites For The Perfect Mix Of Nature and Adventure
Need an energetic departure from the reliably rising defilement and pandemonium of your metropolitan? By then outside in Nainital is the ideal estimations of recovery for you that allows you to get up and close with Nature! There's no favor put over Nainital in Uttarakhand to experience the wonderful combination of history, culture, sees, nature, undertaking, and a stunning environment in the midst of a smart flee to the inclines. Other than nature, Nainital is a middle for adrenaline junkies with practices like paragliding, shake ascending, rappelling, ascending, traveling, wild visits, yoga, clasping, kayaking, mountain trekking, winged animal survey, and that is only the start. With a particularly lot of big business to interest oneself with, Nainital never fails to keep the energize remaining portion taking off high continually!
While the nights will be stacked with snapping pit fires, music, and glimmering stars overhead, your mornings will be graced by stupendous points of view of sumptuous mountains, warm light separating through thick safe houses of trees overhead, and the sweet twittering of flying animals. Enraptured? Peer down to see where best you can find these experiences in this captivating retreat.
Best Time For Camping In Pangot
Regardless of the way that this excellent incline station is absolutely beautiful and quite reliably, explorers like to visit in the pre-summer quite a while from March to June when the environment is at its generally awesome and one can appreciate the biggest number of involvement sports. This also fills in as the best an ideal opportunity for outside as most of the campsites are open just in the midst of the mid-year (and a portion of the time cold weather) months.
You can moreover visit Nainital in winters, in October and February, for its enchanting scenes and tranquil climate. One should go without going to in the midst of Monsoons (July to September) as the spot experiences consistent precipitation which causes deterrents in driving and grows the chance of torrential slides.
Best Nainital Camps
Here are a bit of the most ideal decisions for outside in Nainital where you can experience everything from big business, nature, loosening up, comforts, and points of view. See what they all bring to the table and pick your top decision! Camping In Pangot
1. Ayar Jungle Camp
An ideal break for big business sweethearts, Ayar Jungle Camp gives a complete experience of Nainital District's untamed life. One can immerse themselves in the basic radiance for what it's worth and chill amidst the serene climate of these excess camps. Other than an extent of improvements, these exquisite Nainital camps offer undertaking practices like Caving, Rock Climbing, Night Treks, and Bird Watching, experiences that are sure to make your journey to Nainital basic.
Territory: Barapathar-Sherwood College Road, Ayarpatta Hill, Mallital, Nainital, Uttarakhand 263002
Workplaces: Bonfire, throughout each and everyday Doctor accessible to return to work, all day everyday Power Backup, Hot Water, Pets Allowed, Barbeque, Dedicated Parking, Restaurant, Conference Room, Free WiFi, Assistance with Cab/Train arrangements
Google Rating: 4.3 | TripAdvisor Rating: 4 Camping In Pangot
2. Camp Mehi
Orchestrated in the Pangot Village of Nainital, Camp Mehi offers its guests a mix of reducing circumstances close by energizing and endeavor. Set amidst beautiful slants, your tents will permit you to awaken to amazing points of view each day in the midst of the length of your remain. The town of Pangot is also a birder's paradise as one can identify different lovely tenants and transient fowls here, making it a champion among different spots to visit in Nainital. Discovered a minor 15 km from Mall Road, the beneficial space of Camp Mehi makes it a champion among different choices for outside in Nainital.
Region: Pangot 263002, India
Workplaces: 22 Deluxe Tents, Well Furnished Wooden Cottages, Attached Bathroom, Obstacle Course, Garden Dining, Generator Back-up, Private Car Parking, Adventure Activities with Safety and Sports Gear, Multi Cuisine Kitchen, First Aid Attendance and Doctor On Call, Camp Vehicle for Emergency Needs Camping In Pangot
Google Rating: 4.3 | TripAdvisor Rating: 4.5
3. Camp Dhanuli
Camp Dhanuli gives the ideal break from the city wreck and defilement. Equipped with all improvements, this Nainital undertaking camp is the ideal objective for you to spend your events. The camp offers ace-guided endeavor practices like journeying, late evening climbing, Jumaring, rappelling, shake climbing, and valley crossing. Giving a rich pull out amidst nature and weird viewpoints, Camp Dhanuli will not allow you to leave confused!
Region: Village Mangoli, Kala Dunghi Highway, Nainital 263001
Workplaces: Mineral Water Bottles on a normal daily schedule, Running Hot Water, Toiletries Kit, Electric Heating Bags, Adventure practices like Paragliding, Rock Climbing/Rappelling,
Roadtrip to Corbett National Park (Jungle Safari), In-House Rope practices like Burma Bridge, Jumaring, Trust Walk, Board Games like Volleyball, Badminton, Chess, Carom, and Darts Camping In Pangot
Google Rating: 4.5 | TripAdvisor Rating: 5
4. Camp Kyari
Live in the wild and perfect customary greatness at Camp Kyari. Arranged in Kumaon Village, Seat, Camp Kyari is an unpredictable outside ground at a stature of 2,800 ft. It is the ideal spot for outside in Nainital to track down Uttarakhand's untamed normal daily routine in their trademark experiencing space. At whatever point here, you find the opportunity to stay in extravagant tents, relish the pith of fresh, local sustenance, and like a lot of guided activities like Body Surfing, Swimming, Rappelling, Rock Climbing, Mountain Biking, and that is only the start.
Territory: Village Seat, Kotabagh, Nainital 263159
Workplaces: Wildlife and birding trails, mountain trekking, night ascends, stream journey, outside in the forested areas, Swimming In River Pool, Volleyball, Harvesting At An Organic Farm, Trekking, Rock Climbing, Rappelling, Mountain Biking, Body Surfing Camping In Pangot
Google Rating: 4 | TripAdvisor Rating: 4.5
Tip: Camp Kyari is open in the significant length of October to April and stays shut in substitute months.
5. Break Jungle Camp
Tracked down a fundamental leave the Naini Lake through the forested areas, this camp stay in Nainital is sure to move you into a charming universe of nature and excellent greatness the moment you set eyes on it. New mountain air and rich environmental factors joined with the traces of winged creatures and animals, instead of the blasting of horns, defilement, and mechanical disturbances of metropolitan centers, are sure to resuscitate your resources and impact you to feel more empowered. Besides being arranged in a quiet, beautiful setting which was before a lake, you'll be permitted to appreciate different experience practices like climbing, flying animal watching, volleyball, table games, and anything that is possible from that point.
Region: Chapora, Sattal 263155
Workplaces: Well-arranged Kitchen, Birdwatching, Nature Walk, Angling, Day Hiking, Rappelling, Obstacle Course, Burma Bridge, River Crossing, Trekking, Wildlife Safari, Expeditions, Kayaking, Paragliding Camping In Pangot
Google Rating: 4.4 | TripAdvisor Rating: 5
Site | TripAdvisor Reviews
Luxury Camping in Nainital
6. Sattal Birding Camp
Arranged in the little town of Bhaktura ignoring a rich valley, Sattal is a splendid Nainital experience camp for feathered animal watchers, picture takers, and traveling fans. Set at a stature of 4,400 ft above sea level, this camp gives undertaking fans an abundance of trademark environmental factors to have a great time and lots of fun activities to partake in.
Territory: Sattal Birding Camp Village, Bhaktura Meragaon, Sattal Road, Uttarakhand
Workplaces: Bird Watching, Fishing in the lake, Treks, Boating, Picnic, Rock-climbing, Barbeques, Bonfires Camping In Pangot
TripAdvisor Rating: 3.5
7. Camp Milieu
Found accommodatingly a long way from the hustling around of furious disarray of human progression, Camp Milieu exists in an identical partition of both Nainital and Jim Corbett. Like sheer quietness, take in the fresh mountain air, and explore the fortune store of the boondocks while outside in Nainital. There's no favored spot to extricate up over these excess camps in Nainital. Other than nature and venture, Camp Milieu gives you an authoritative territory to experience the Kumaoni culture. Here, you could check out individuals' music, look into society moves, be a piece of cooking workshops, and spot a crowd of delightful winged creatures and animals.
Region: Village Ghatgarh, Nainital 263001
Workplaces: Accommodation in mud lodges, tents, and apartments, warm cordiality, neatly cooked food, delight, pit fire, venture works out, winged creature noticing Camping In Pangot
Google Rating: 4.5 | TripAdvisor Rating: 5
Tip: Camp Kyari stays shut in the midst of the apex turbulent season, that is, from July till September.
8. YMCA Camp
Tucked comfortably in the little town of Sattal, YMCA Camp offers a euphoric outside encounter to guests in the midst of nature, great climate, thick unsettled areas, and a contrasting untamed life. These particularly kept up Nainital camps are spread over a district of more than 15 areas of place that is known for land and gives most limited comfort to voyagers. The camp gives pleasing rose lodge and varied experience sports close by workshops and social affiliation programs for the young adult.
Region: Sattal, Nainital
Workplaces: Activities like Commando Net, Burma Bridge, Double Rope Bridge, Flying Fox, Angling, Hiking, Rappelling, River Crossing, Nature Walk, Wildlife Safari, Paragliding, Kayaking, Expeditions, Outdoor Conferences, Bird Watching, Ground for Cricket, Badminton, and Volleyball. Camping In Pangot
Google Rating: 4.5 | TripAdvisor Rating: 4.5
9. Wild Adventure Camp
Predictable with its name, this camp will give you a fanciful issue of living in the wild and having endeavors. Living in luxury tents out of a woods setting will indeed come as a great break from the monotony of step-by-step life and empower your resources. Arranged at a transcend sea level close Naukuchiatal in Bhimtal, outside close Nainital in Jungle Adventure Camps will give you the ideal pull out in luxurious woods for that really fundamental break you were searching for.
Territory: Near Templeton Academy, Naukuchiatal
Workplaces: Proper and Comfortable Bedding, Speedy Room Service, Running Hot Water, Garden Dining, Generator Backup, Car Parking, Well-Equipped Restaurant, Experienced Activity Instructors and Trekking Guides, First Aid Attendance and Doctor On Call, Camp Vehicle for Emergency, Jungle Trekking, Rock Climbing, Bird Watching, Sightseeing, Night Safari, Cable Cars, Horse Riding, Paragliding, Bonfire, Music Camping In Pangot
Google Rating: 4.2 | TripAdvisor Rating: 5
10. Camp Lagoon
Perched at a statue of 1,218 meters above sea level in the center of Nainital – Naukuchiatal, Camp Lagoon is incorporated by thick woods with a sparkling stream streaming adjoining. Allowing guests to endeavor moved experience sports, Camp Lagoon is a stunning spot for outside in Nainital amidst the unrivaled greatness of nature and eco-obliging condition that vehicles you in an all-around different world.
Territory: Earthvision Properties, Rewati Cottage, Near Hanuman Temple, Naukuchiatal 263136
Workplaces: Veg and Non-Veg Buffet Meals, Bonfire, Music, Evening Snacks, Games like Volleyball, Cricket, Carom, Chess and Badminton, Activities like Swimming, Fishing, Paragliding, Trekking, and Hiking, Railway Transfers, Free Stay for Children Below 10 Years of Age, Log Huts with Attached Western Toilets, Running Hot Water, First Aid, Internet Camping In Pangot
Google Rating: 5 | TripAdvisor Rating: 4
11. Back To Nature Camp
Nainital Pangot Camping
Furthermore, also as the name proposes, these Nainital camps really return you to nature! It's an interesting camping area arranged on the grades of Nainital's inclining regions and an absolutely eco-obliging region in Bhimtal, a champion among different spots to visit close Nainital. It is impeccably appropriate for travelers who wish to appreciate diverse interfacing with practices in the lap of nature and far, a long way from the prodding chaos of the city, all at a sensible expense. Giving an authoritative loosening up the journey to voyagers, Back To Nature is a stand-apart nature camp with all-around arranged lavish tents and lodgings. Camping In Pangot
Territory: Village Alcona, Near Bhimtal, Nainital-Mukteshwar Road, Uttarakhand 263136
Starting Price: 4,885
Workplaces: Adventure and Kid's Activities, Meals, Speedy Room Service, Free Parking, Internet
Google Rating: 5 | TripAdvisor Rating: 4.5
Nainital Pangot Camping
As regularly as conceivable Asked Questions For Camping In Nainital
Got questions? Check whether any of the going with an answer your inquiries.
How to accomplish Nainital?
A. Especially connected with genuine metropolitan networks of India through air, road, and rail, making an outing to Nainital is straightforward!
By means of Air: Nainital doesn't have to organize air accessibility. The nearest plane terminal to Nainital is arranged at Pantnagar, which is at a division of 65 kilometers from the midtown territory. The plane terminal for the most part gets private contracted flights, no business flights are operational to and from here.
The second nearest air terminal is arranged in New Delhi at a partition of approximately 290 kilometers. Delhi air terminal, on the other hand, is throughout related to various metros in the country and over the world. From the air terminal, one can without a doubt utilize a taxi or take a vehicle to Nainital, which will take around INR 1,500/ – per person. Camping In Pangot
By means of Train: This is the most functional option in contrast to development to Nainital, especially for those hailing to critical metropolitan regions like Delhi, Jaipur, Chandigarh, and that is only the start. The nearest railroad station to Nainital is discovered inconsequential 34 kilometers away at Kathgodam in the lower areas of Kumaon slants. The Kathgodam Railway Station is particularly connected with basic Indian metropolitan networks like Delhi, Lucknow, Jaipur, Kolkata, Mumbai, and that is just a glimpse of something larger, with step-by-step get ready surging forward and in reverse New Delhi. Once at the station, you can get a shared taxi or take a vehicle the distance to the city.
By Road: Driving to the beautiful, verdant inclines up north is involvement with itself. Nainital is a lot associated with each and every adjoining town, metropolitan zones, and any remaining incline stations in Uttarakhand through an arrangement of all-around kept up, smooth roads including. Nainital can be adequately decided down to from metropolitan networks like New Delhi (303 km), Lucknow (426 km), Jaipur (552 km), Chandigarh (474 km), and Dehradun (290 km). There are diverse private taxi associations and visit heads that give general vehicle organizations to explorers who wish to go to Nainital at moderate rates. Camping In Pangot
Various visit managers moreover give reliable AC transport and Volvo organizations with excess extravagances and moved seating approaches (sleeper, semi-sleeper, seater, and that is only the start) to guests. To see the value in a difficult free and pleasing visit to Nainital without the undertakings of driving down long partitions yourself, you can essentially board medium-term AC transports and travel in excess and comfort at saving rates.
What are the prosperity careful steps one requires to take while outside in Nainital?
A. Notwithstanding the way that outside is far and away valiant and fun, one necessity to avoid any and all risks to ensure their security and make some beguiling memories:
1. Go outside in an incredible environment (go without outside in rainstorm)
2. Keep your pack as light as possible
3. Pass on sustenance things that you can without a very remarkable stretch cook, as packaged types of food and arranged to prepare meals.
4. Trust simply a confirmed association for all your outside activities and contraption
5. Pass on the going with things:
Helpful Kit
Collapsing blade
Light
Compass
Mosquito Repellent
Comfortable Clothes
Best Camping in Pangot Nainital