Annapurna Base Camp Trek

Annapurna Base Camp Trek
Trekking tours
Annapurna Base Camp Trek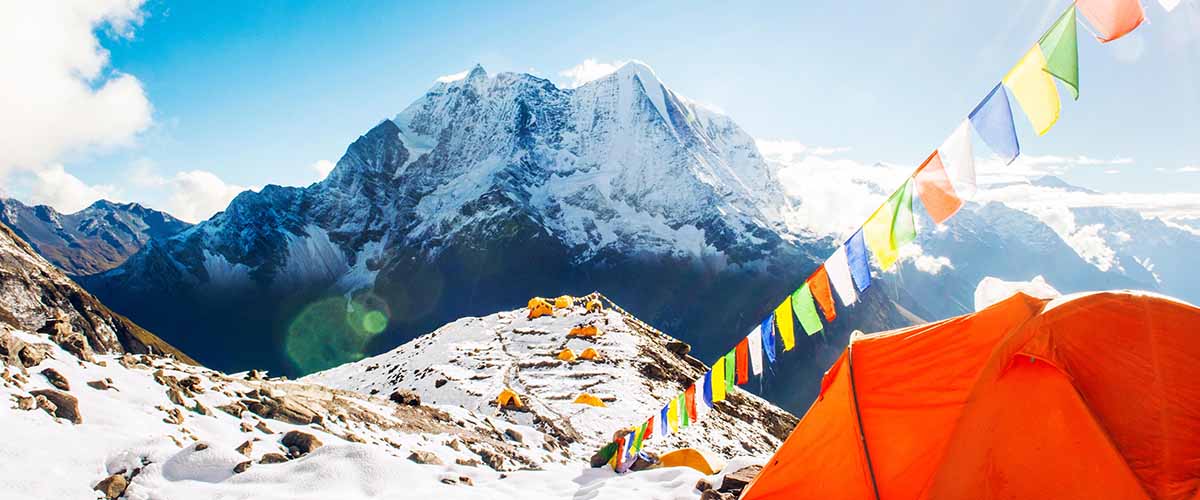 The classic trek in the Annapurna region is to so call Annapurna sanctuary; the site of the base camp is used by expeditions attempting the massif south face of Annapurna I. The trek to Annapurna base camp combines some of the most spectacular Himalayan scenery with a fascinating insight into the life of middle hill Nepalese. Spend at least one full day inside the sanctuary, side trips across the south Annapurna glacier, north Annapurna base camp allow for an even better appreciation of this unique place. Anytime, trekkers must beware of snowfall and avalanches that can block the narrow entrance to the sanctuary.
Facts Of The Trek 
Destination
Trek Grade
Group Size
Departure
Max. Altitude
Season
Accommodation
Duration

:
:
:
:
:
:
:
:

Annapurna Base Camp (4130m.)
Strenuous
Min -1
On Request
4130 m
Spring & Autumn.
Lodge / Tented
17 Days
Itinerary In Details
| | |
| --- | --- |
| Day 01 | Arrive Kathmandu 1320m. Meet with our representative at the airport. Drive to hotel. |
| Day 02 | Kathmandu. 4hrs. Half-day sightseeing around Kathmandu. O/N at hotel |
| Day 03 | Kathmandu -Pokhara Drive 6 hrs, fly 30 minute 960m. Drive by tourist bus or fly. O/N at hotel. |
| Day 04 | Pokhara – Birethanti – Ulleri drive 2 hrs and trek 4 hrs 2070m. |
| Day 05 | Ulleri – Ghorepani 5 hrs 2850m. |
| Day 06 | Ghorepani – Tadapani 6 hrs 2660m. |
| Day 07 | Tadapani – Chhomrung 5 hrs 2030m. |
| Day 08 | Chhumrung -Himalayan Hotel 7 hrs 2920m. |
| Day 09 | Himalaya-Machhapuchere Base camp 4 hrs 3720m. |
| Day 10 | Machhapuchere – Annapurna base camp. 3 hrs 4130m. |
| Day 11 | Annapurna Base Camp- Bamboo 7 hrs 2300m. |
| Day 12 | Bamboo – Jhinuwa (Hot spring) 6 hrs 1400m. |
| Day 13 | Jhinuwa- Pothana 7 hrs 1900m. |
| Day 14 | Pothana – Pokhara 2hrs walk & 1 hrs drive. |
| Day 15 | Drive Pokhara-Kathmandu 6hrs drive or 30minute fly. |
| Day 16 | Rest In Kathmandu |
| Day 17 | Departure |
Price
Cost Per Person: (N/A) Click here for for further details.
Price Includes
National Park entry permit
Trekking permit
Land transportation to and fro
Accommodation in lodges during the trek
Food: three meals a day
A guide & required number of porter (s)
Essential equipment.
Price Excludes
Personal expenses
Insurance
Tips
Emergency evacuation by Helicopter
Alternative transportation in case of heavy rain, landslide, strike and road blockade etc.
Base Camp Trekking Tour is one of the best guides and porter providing local government registered agency in Kathmandu may be helpful to design your next possible holidays to Annapurna Base Camp in Nepal. Annapurna base camp trekking route also discover as Annapurna sanctuary trek.
Annapurna sanctuary trek is one of the most regarded beautiful sceneries and popular trekking region in Himalayas Nepal suitable small group trekkers or group joining travelers because it has so many different types of natural landscapes like: green¬ valleys, snowed peaks, stream rivers, showering waterfalls, natural hot spring, high mountain pass, long meadows, incredible glaciers and so on. With guide and porter team at Base Camp Trekking Tour, so many natural landscapes to witness in one trekking in Nepal, is surely remarkable trip during your life time achievement. Our Himalayan planet is filled with some amazing travel destinations like Annapurna Base Camp Trek and covers the wishes like; beaches, valleys, mountains and so on. When we dream and talk about the trekking then the highest Himalayas is the first name that strikes our mind and body. With snow caped tall mountains ranges the Himalaya region is like a paradise on heaven for the travelers. The blowing mesmerizing views of Annapurna Base Camp region are something which would create an ever lasting impression on our mind. One such a beautiful and lovely place in Nepal which lies twenty seven kilometer air distance from Pokhara Valley, the north-central Nepal is Annapurna regions and is famous for its incredible peaks ranges and natural beauty.
If Base Camp Trekking Tour team has to mention one of the most popular trekking places of the globe, then truth is told Annapurna base camp. This Annapurna base camp is a finest combination of remarkable hidden landscape and amazing peaks on touching distance. The journey to Annapurna base camp region Nepal could begin from Pokhara to Phedi or Nayapul and as you proceed you would get an lifetime opportunity to discover this scenic region which is filled with breathtaking views of the stream rivers, waterfalls, farmland and the different inhabitant villages. Another attraction of Annapurna base camp trek is the Nepal national flowers rhododendron forests which surely will leave you spellbound in last week of February,March to mid May. Annapurna base camp is nestled among the magnificent Annapurna I, Annapurna Fang Hiunchuli Peak, Holy Machhapuchhare and Annapurna South. You can discover the Gurung and Magar culture of this region while at Ghorepani village and Ghandruk Annapurna Nepal. The tenth highest mountain in the world, mount Annapurna base camp trek would offer a lifetime experience under your feet. The best part to trek Annapurna base camp could be covered in short time (approximately seven to ten days) or for those who wish to spend some more time can expand their trip around two weeks also. Annapurna base camp trek or Annapurna sanctuary trek is moderate type of tea house trekking meat not necessary camp; best months of the year for this trekking are mid February, March, April, May and mid September, October, November and first week of December. Annapurna base camp trail via Ghorepani Poon hill will be even more attractive in mid spring because the complete forest along the main trail turns red, pink and white by national rhododendron flowers including exploration of two popular base camps Machhapuchare 3750meter and Annapurna base camp 4130meter high of sea level.
Your trip to Annapurna base camp could start Nayapul,Ghorepani, Poon Hill,Chhomroong,Dovan, Deurali and on the way back from Annapurna base camp trek Pokhara via Ghandruk,Syauli bazar, Nayapul or Landruk, Pothana, Dhampus and Phedi . All of these places are known for their different natural beauty and have something to offer to the tourists. For instance you can discover Ghorepani, the most stunning view point from Poon Hill to seventh highest mountain Dhaulagiri ranges 8167meter and world deepest gorge at Dana .Annapurna South and Fishtail Mountain could be better viewed from Tadapani. The cold Bamboo forest of Annapurna base camp region would offer you a very different experience then Annapurna circuit route. You could view the incredible magnificent Machhapuchhre from Annapurna base camp. It would also offer you a view of Mount Ganagpurna, Gandharvachuli, Hiuchuli, Annapurna South, Annapurna I and Annapurna III surrounded around and feel in the snow pocket of Himalayas. The popular Annapurna base camp trek is surely worth visiting for every single travel to small group travelers with family and children above 10 years can be plan as you like to do.
Annapurna Base Camp Trek 10day Itinerary
Arrival in Kathmandu Airport (1300m/4264ft) Upon our arrival in Kathmandu airport gate, a representative from Nepal Base Camp Treks will pick you up from the airport and your selected hotels. In the afternoon, we may take a rest or short brief about the trip. In the evening welcome dinner at authentic Nepalese cuisine which will introduce you to the Nepalese food culture. Overnight in Kathmandu
DAY 01: Fly to Pokhara (825m): 25 minutes by Buddha Air and trek to Hile Tikhedhunga (1500m): 3 – 5 hours.We take an early morning flight at 9 o clock to Pokhara, the beautiful lake city and catch great views of the Himalayas ranges from the right side of our Buddha Air. After landing in the Pokhara airport we drive to staring point Naya Pul (1 hour and 30 minutes) and continue the trek. From check point Birethanti, we trek to hile, a beautiful village mostly inhabited by the magar andgurung community
Day 02: Tikhedhunga to Ghorepani (2780m) 5-6 hours After hot cup of tea and breakfast same lodge we stayed we will start the trek around 8 o clock in the morning. Trek steep uphill to Ulleri village and then gradually to popular Ghorepani via Banthanti and lunch at Nangethathi.
Day 03: Visit Poon Hill and trek to Tadapani or Chueli 6-8 hours Today early in the morning around 4:30 a.m. visit Poon hill Public Visitors Park to see sunrise to the panorama views over Himalaya ranges.back to lodge and continue to Tadapani onvernight there.
DAY 04: Tadapani to Chhomrong (2170m): 4 – 5 hours from the top of the Tadapani, we decent down to Komrong river for around two hours then climb gradually Chhomrong via lunch at Ghurjung village.On the way enjoy closes views of Annapurna South,Hiuchuli peak and holy Machhapuchchare (fishtail in English)
DAY 05: Chhomrong to Bamboo (2310m) 4 – 5 hours The trail out hill of Chhomrong descends via 2500 stone steps and crosses the Chhomrong Khola via old Chhomrong village on a new suspension bridge. It is an uphill climb to Sinuwa danda. Next, we pass through a beautiful forest to Kuldihar followed by an easy downhill walk to Bamboo where sky became narrow. Overnight hotel at Bamboo. Included meals:BLD
DAY 06: Bamboo to Deurali (3230m): 4 – 5 hours Passing through the bamboo forest which is damp and cold then ascend steadily with fewer steep sections to Dovan. It is only two hour after reaching Himalaya Hotel that the forest opens up and we are out in the sunshine again with astounding views of the glacial river Modi below. It is a steep climb up through a much drier forest before reaching Hinku Cave with big rock. From here we can see the trail drop closer to the river before climbing again to Deurali with few lodges asking for lunch break, the most scenic stretch of the day. The vegetation is sparser, allowing magical views of the narrow valley, the river below, and the sheer rock face cliffs above with bands of wispy waterfalls. Overnight in Deurali. Included meals:BLD DAY 07: Deurali to Annapurna Base Camp (4,130m) via Machhapuchhre Base Camp (3700): 5- 6 hours Climb gently through a river bed enjoying mountain peaks then over a steep trail over to the mountain side. The trek from Bagar to Machhapuchhre Base Camp is somewhat strenuous and feels little altitude. From Machhapuchhre base camp we get excellent views of the majestic Machhapuchhre south with Hiunchuli, Annapurna South in east ride side and Annapurna I on the background of north .after lunch another two hours to Annapurna Base Camp. if lucky we can enjoy views whole day. Included meals:BLD
DAY 08: Annapurna Base Camp to Bamboo: 7 – 8 hours Early in the morning just two minute walking distance to glacier cliff catching sunrise views changing colors back to hotel for breakfast. From the Annapurna base camp we retrace our steps back down to Bamboo. Today's trek is downhill so it shouldn't be very difficult for knees.Included meals:BLD DAY 09: Bamboo to Jhinu Danda (1760m) 5 – 6 hours Trek from Bamboo, we follow whole way to Chhomrong via Sinuwa Danda.After lunch trek down to Jhinu Danda. Check in the lodge first then trek down to hot spring; Included meals:BLD
DAY 10: Trek to Naya Pul then drive to Pokhara: 6 hours trek, 1 hour drive Last day of the trek from Jhinu to Nayapul follow the back of river Modi againl. We have lunch at Kyumi. Our trek will end at Naya Pul where our private vehicle to Pokhara. Overnight selected hotel in Pokhara. Inlcudes meals:BL
From Pokhara city you have option to fly back to Kathmandu or spend few days in Pokhara or driven to Kathmandu by tourist bus.