Camping in Nainital
Camping in Nainital
Book @ ₹1500
Rating 4.5 – Review 237
Package Includes:
  Stay at Swiss tents/Alpine tents with attached toilet  Welcome  Breakfast Lunch Dinner
  Bonfire Snacks  Morning and Evening Tea Adventure Activities: Rappelling, Flying Fox, waterfall trek, and more Day Treks (if planned / transport extra) Bonfire and Music Outdoor & Indoor Games
Nainital Camp Booking
[wpforms id="6424″]
Facilities:
Beautiful bamboo/parachute restaurant offering multi-cuisine
Campsites are located adjacent to the motor-able road
 Well-built attached bathrooms with English toilet seats
The facility of dome tents for adventure freaks
Separate toilets and bathrooms are also available for large groups
Hot water on request in camps. Geyser in Lodge.
Activities:
Tyre Bridge
Burma Bridge
Trekking
Double Rope
*activities totally depend on weather conditions
Meals included
* No charge for child up to 5 years. 50% charge for child 6-12 yrs. Full charge for child above 12 years
*Cancellation Policy for Reservations: 100% refund in case of cancellation 30 days before arrival date. 50% refund in case of Cancellation 15 days before arrival date. No refund in case of Cancellation within 14 days of arrival date. No refund in case of cancellation because of weather or roadblocks
Camping tours
Camping in Nainital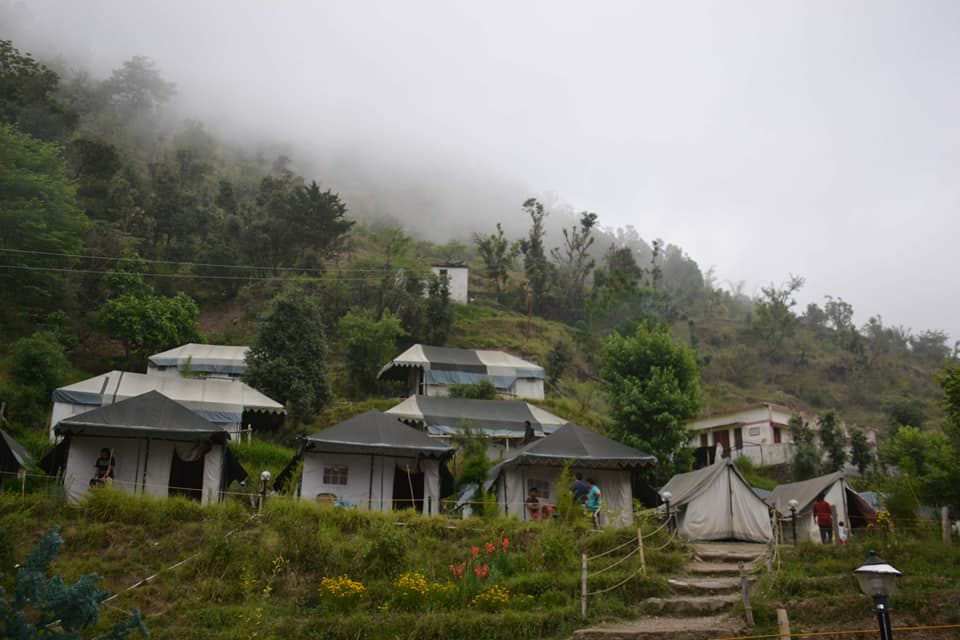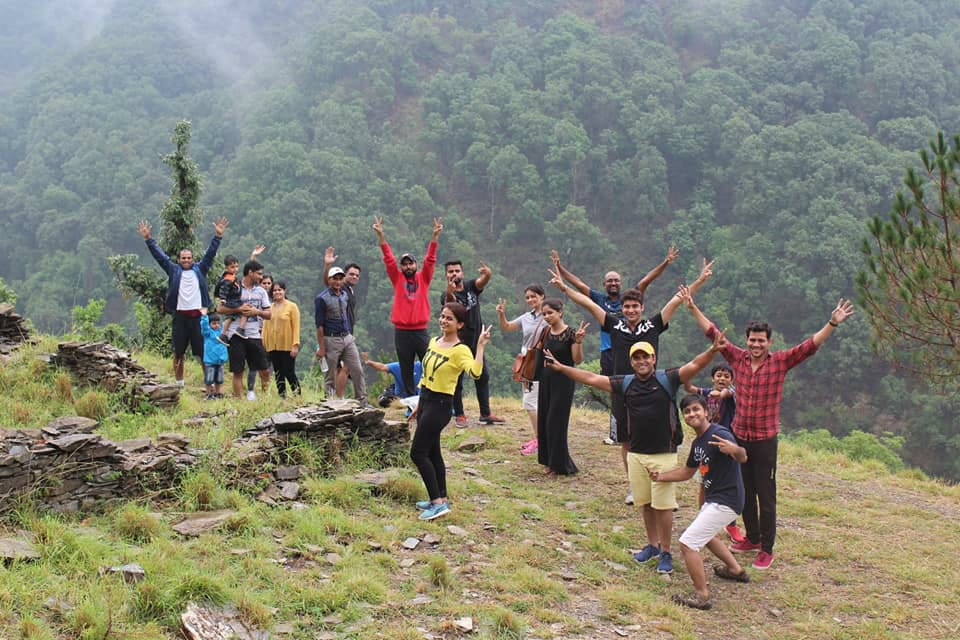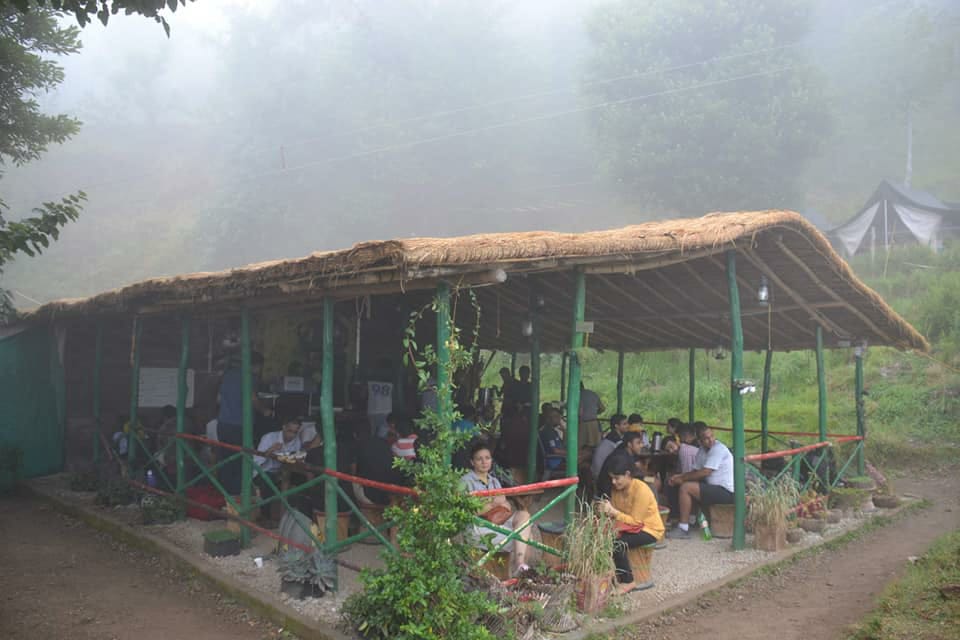 Previous
Next
Nainital
Nainital, Uttarakhand is famous not just for its green hills or many lakes. It is also famous for it's many legends and stories. Hundreds of ancient temples and peaks with astounding views of the mountains in the background add to Nainital's magical appeal. The history of this dainty town sails over the surface of the Naini Lake, where oarsmen narrate the stories of the rishis who brought the waters of the sacred Mansarovar River to form Suffocating at times with thousands of tourists, Nainital is also home to Sherwood, one of India's most prestigious schools.
History. Camping in Nainital
Mythology
According to a legend Parwati the daughter of King Daksha held a great 'Yajna' but did not invite Parvati and her consort Shiva. Parvati could not bear this direct insult, in her great fury Parvati gate-crashed into the 'Yajna' ground and leaped into the high flames of 'Yajna' fire to end her life. And later lord Shiva retrieved her half-charred corpse himself. The majority of the local people believe that the eyes of Sati dropped in the lake while her body was being carried by Lord Shiva to Kailesh Parvat. Hence, the lake was given the name of 'Nainital' or Naini lake. Later the spot became famous by this very name. Camping in Nainital
Nainital is a small town in the kumaon foothills of the outer himalaya. Nainital is so beautifiul that it is like a glittering jewel in the himalayan necklace. Nainital is famous for lakes especially naini jheel(lake), hence nainital is also known as 'lake district' of India. Nainital is situated in a valley that contains pear shaped lake, approximately two miles in circumference and surrounded by mountains. It is also of religious importance because naini lake is considered to be one of the 64 shakti peeth. This is the spot where the Goddess Sati's Eye(Nain) is believed to fall and hence "Nain-tal" which later was called Nainital.
Some Important places in the district – Nainital, Haldwani, Kaladhungi, Ramnagar, Bhowali, Ramgarh, Mukteshwar, Bhimtal, Sattal and Naukuchiatal. Camping in Nainital
Nainital Fact File
Nainital is located at an average elevation of 2084 metres (6837 feet).
It has an average area of 11.73 sq kms.
Maximum Temperature – 27°C(81°F)
Minimum Temperature – 7°C(45°F)
Nainital Receives Snowfall between December to February
During Snowfall temperature may go down upto -3°C(26.6°F)
Hindi, Kumaoni, English Languages are spoken here
Average Literacy Rate – 91% Camping in Nainital
Nainital – Location
Nainital is Located in the state of Uttarakhand and is the headquarters of Nainital District in Kumaon Foothills. It is approximately 280kms from Delhi, the national capital.
Nainital – Mythology
As per Skand Puranas, Nainital Laker was called Tri-Rishi-Sarovar, that says the story of three sages – Atri, Pulstya and Pulaha. When they found that there was no water in Nainital, they dug a large hole and filled it with water from the holy lake Mansarovar in Tibet, which was later know as Naini Lake, This is considered amongst 64 Shakti peeth (A place where the charred body of Goddess Sati fell on Earth), and this was the place where the Eyes(Nain) was believed to fall and hence was know and Nain-tal, which was later transformed to Nainital.
Nainital – History
The kumaon hill was under British rule during (1814-16), but the hill station was founded in 1841. The town then, soon became a health resort for british soldiers, officials and their families who came here to escape heat of plains. Later it also became the summer residence of the Governor of Unitd Provinces. Camping in Nainital
Nainital – Lakes
There are number of beautiful lakes in and around Nainital which are the major attraction of Nainital Tourism. They are as follows:
Naini Tal – The most famous lake of Nainital.
Khurpa Tal – also knows as Trowel Lake and is about 11 km from Nainital.
Sat Tal – "Sat" stand for "Seven" and it consists of Seven lakes namely – Ram Tal, Laxman Tal, Sita Tal, Purna Tal, Nal-Damyanti Tal, Garud Tal and Sukh Tal. It is situated approximately 22 km from Nainital.
Bhim Tal – This lake is named after legendary hero "Bhim" of epic mahabharata and is situated 2 km from Sat Tal.
Naukuchia Tal – The name stands for Nine Corner Lake, and is situated 4 km from Bhim Tal.
Nainital – Shopping
Tourism in Nainital has no meaning without shopping. Mallital, Tallital and Tibetan Market are the places to shop in Nainital. Mall Road is the most rush area during tourism season. Hill Top tourist point and Kasta Kala Kendra Collection are the places where you can shop for handicraft items.
Nainital – How to Reach
Pant Nagar is the nearest Airport for Nainital and is approximately 70 km from Nainital and Kathgodam is the nearest Railway Station and is approximately 40 km from Nainital. A bus or a taxi can be hired to reach Nainital from both the places. Nainital is well connected by Road to other parts of the Country and can be easily reached from major cities in India like Delhi, Lucknow, Agra, Bareilly etc.
Nainital – Festivals
Festive season can add extra joy to your Nainital tourism. In September a festival takes place in honor of Naina Devi, and is one of the most important festival of Nainital. Kumaon Festival is held in month of October and November. Camping in Nainital
Various Tourist Places in Nainital are:
Naini Lake
Naina Devi Temple
Bhim Tal
Sat Tal
Khurpa Tal
Naukuchia Tal
Mall Road
The Flats
The Zoo
Aerial Ropeway
Governor's House
Snow View Point
Cave Garden
Hanuman Garhi
Naina Peak
Tiffin Tip
Land's End
Gurney House
Aryabhatta Research Institute
St. Johns Church
Kilbury
Baot Club, Mallital
Sanjay Park (Botanical Gardens)
Barrah Patthar (12 Stones)
Special Attraction:
Himalaya Mini Golf
Horse Riding
Boating
Ropeway
Mall Road Strolling
Sports (The Flats) Camping in Nainital
Various packages offered by Nainital Tourism are:
Nainital-Kausani-Corbett Packages
Nainital Honeymoon Packages
Nainital and Ranikhet tour packages
Delhi Nainital Delhi tour packages
Nainital Mussoorie tour packages
Nainital Delhi Mussoorie tour packages
Uttarakhand Religious tour packages
Nainital Mukteshwar tour pacakges
Jim Corbett National Park Packages
Nainital Family tour packages
Nainital Corporate tour packages
Nainital Educational tour packages
Nainital Group tour packages
Nainital Budget tour packages Camping in Nainital