CAMPING IN MUKTESHWAR
CAMPING IN MUKTESHWAR
Book @ 1800
Book @ ₹1500
Camping tours
CAMP CRAFT – Adventure Resort And School of Outdoor Skills, CAMPING IN Mukteshwar, Nainital
CAMP CRAFT – Adventure Resort And School of Outdoor Skills
Village Supi-Kafali, Distt Nainital, Mukteshwar, Uttarakhand, 263137
FIT Nett Rates for You
Special Net Rates for you Rs. 1500 Per Adult on Dbl sharing per night in Swiss Tents ( Attached Washrooms )
Rates are Inclusive of
– Accommodation in Swiss Camp with Attached Washroom
– Morning / Evening Tea with Cookies
– All Meals ( Breakfast, Lunch and Dinner ) – Veg / Non Veg
– Evening Bonfire ( In Winters )
– Activities at Camp ( Zip Line, Swinging Bridge, Parallel Rope, Burma Bridge, Mogli Walk, Bamboo Bridge Etc )
– Shooting and Archery Sessions
– Indoor Games ( Table Tennis, Carrom, Chess etc )
– Access to Library
– Morning Yoga
– Village Trek
Excursion from Camp Craft ( Extra Cost )
– Bhalugaad waterfall ( 2 hrs trek ) there we can do two activities like Zipline and Waterfall dip at an extra cost
– Nainital Day Visit ( 50 KM one way ) at an extra cost
– Thakoor Top Trek with Jungle Stay
Excludes
– Any Extra Meal
– Any transportation
Camping in Muketshwar Nainital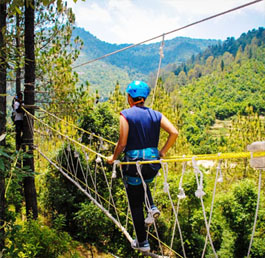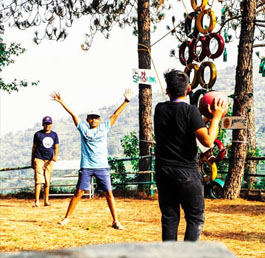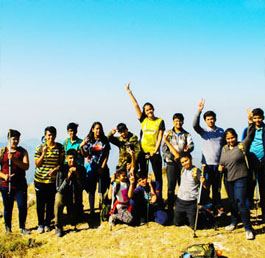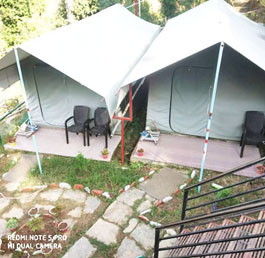 Camping in Mukteshwar Nainital
Where is Mukteshwar?
Mukteshwar is one of the famous towns which are located in the beautiful state of Uttarakhand in India. It is situated in the hills of Kumaon at a height of 2286 meters. From the famous hill station of Nainital, this town is just 51 kilometers away. The name of this town has its origin from an ancient temple of Lord Shiva which is present in this town. This temple is called Mukteshwar Dham. The most famous tourist spots which are located in this town are Mukteshwar temple, Chauli ki jaali, Bhim Tal, Ramgarh, etc. Camping in Mukteshwar
If you are going to visit this town then you should know that there are many options here with regards to good hotels and resorts. Mystic Mukteshwar lodge, Pathik resort, Red Roof resort, Mukteshwar Himalayan Resort, Pinnacles Retreat, and OM Mountain Resort are some of the best hotels and resorts which are located in the town of Mukteshwar. Every year, a large number of people visit the town of Mukteshwar. It is believed that in this town, Lord Shiva killed a demon and he granted him Mukti or Salvation. That's why this town is known as Mukteshwar. It holds special importance for all the Hindu people.  Camping in Mukteshwar
What to See Attractions in Mukteshwar?
If you have been to Nainital and other places near it then you might have some knowledge about Mukteshwar. Mukteshwar is a small town which is located 51 kilometers away from Nainital in the state of Uttarakhand. This town has been named after the famous Mukteshwar temple. If you are going to visit this town then you might be interested in knowing the attractions which are present in this town. If we talk about the most famous tourist spots in this town then we should name Chauli ki jaali, Mukteshwar temple, Naukuchia Tal, Bhim Tal, and Ramgarh. Camping in Mukteshwar
The Mukteshwar temple is 350 years old and it is located at the highest point in this town. Chauthi Jaali is another name used for Chauli ki Jaali. This place is loved by adventurous people as rock climbing and rappelling can be done here. Ramgarh is a small town that is quite serene and far from the busy city life. It is located at a distance of 22 kilometers from Mukteshwar. Bhim Tal is one of the most famous lakes located in the Nainital district. Bhim Tal is situated at a distance of 35 Kilometers from the town of Mukteshwar. Naukuchia Tal is just 20 kilometers away from Mukteshwar.  Camping in Mukteshwar
Indian Veterinary Research Institute
When we talk about Mukteshwar then apart from beautiful mountains, we can talk about the famous Indian Veterinary Research Institute. The Indian Veterinary Research Institute is a deemed university which was established in 1885. Its foundation was laid by the recommendation of Col. JHB Hallen. The campus at Mukteshwar covers an area of 3450 acres of land and comprises of Division of Virology and that of Temperate Animal Husbandry. Since it is situated at the height of 7620 ft on the intersection of Gagar and Lohaghat ranges of the Kumaon hills, the location adds to the scenic beauty of the place and makes it even more beautiful. Camping in Mukteshwar
View of Nanda Devi
Nanda Devi is the 2nd highest mountain peak in India and overall 23rd in the world. It stands as tall as 7,816 m above the sea level. This mountain peak is clearly visible from Mukteswar and tourists visiting Mukteswar must have a clear look at this mesmerizing beauty. Camping in Mukteshwar
Chauli ki Jali
Mukteshwar is one those hill stations of Uttarakhand which have something to offer for everyone. Next to Mukteshwar temple is Chauli ki Jaali, and area where it is believed that a Demon and a Goddess fought a battle. The place is marked with what is believed to be faint outlines of a sword, a shield and a trunk of an elephant. People also hold it as a belief that women unable to bear children will be blessed with children when touched by the natural lattice around the rock. Camping in Mukteshwar
Methodist Church
In most of the holiday destinations, there are different places which the tourists can visit
Mukteshwar Temple
If you are a follower of Hindu religion then you might have heard about Mukteshwar temple One of the most popular shrines, Mukteshwar temple, is an ancient temple which is almost 350 years old and is dedicated to Lord Shiva. Perched on top of the highest point in Mukteshwar (which is a beautiful hill station that got its name after the shrine), the temple lies approximately 2312 m above the sea level. This grand temple is identified as one of the eighteen most important temples dedicated to Lord Shiva in the Hindu scripture. Camping in Mukteshwar
Narain Swami Ashram
There are a large number of beautiful places in India which a person can visit
Rabindra Nath Tagore Ashram
If you are one of those people who love to visit different places then you might be interested in visiting or knowing about Mukteshwar
Sitla
Sitla is a hill station which is located in Nainital district of Uttarakhand 6000 ft high, Sitla is a hill station popular for its colonial style bungalows. Tourists can engage in trekking expeditions of varying difficulty levels organised by the resorts in this area
Mukteshwar Inspection Bunglow
Complete with scenic views of the sunrise across the Himalayas, the Mukteshwar Inspection Bungalow near the temple offers accommodation for a serene holiday. Camping in Mukteshwar
Adventure in Mukteshwar
People who love to visit different places would love to visit Mukteshwar for its beauty and adventurous activities which can be enjoyed here. The town of Mukteshwar is situated in Uttarakhand. At a height of 2286 meters from sea level, this town stands in a stately manner in the hills of Kumaon. From Delhi, this town is 395 Kilometers away. The adventurous activities which can be done in Mukteshwar are rock climbing, camping, and trekking. Chauli ki Jaali is the place where you should go if you wish to do rock climbing and rappelling. Chauli ki Jaali is also known by the name of Chauthi Jaali.
From Chauli ki jaali, one can see the magnificent view of the valley of Kumaon and the beautiful Himalayan range. People who are visiting Mukteshwar can stay indifferent hotels and resorts. If you wish to engage in adventurous activities then staying in Mountain Trail in Sargakhet or Somerset lodge in Sargakhet will be best for you. Camp Purple is another option where you can stay. Here you would be living in tented accommodations. One can enjoy camping here. The cliff which is available for rock climbing in Chauli ki jaali is a challenging one. Camping in Mukteshwar
Rock Climbing
Adventurous people always look for new places where they can do different kind of adventurous activities which gives enjoyment to them
Trekking & Camping
A large number of people who love trekking like to find new places where they can enjoy trekking. One of the most exciting things to do in Mukteshwar is trekking the winding trails. Enveloped in dense woods, the small hill town offers ample opportunities to scale the hills at trekking and hiking. You can also camp in or around the woods and light a bonfire. There are several camping options available for you. If not, you can set up one of your own. Camping in the tranquil atmosphere is going to be one of the most memorable experiences of your life. Camping in Mukteshwar
Paragliding
Paragliding is one of the most exciting things to do in Mukteshwar. Besides giving you a feeling of euphoria, exhilaration and a high adrenaline rush, it is a surreal experience to float above the valley and glide amidst the clouds. In addition to offering gorgeous 360 degrees bird's eye view of the place, it is an experience that will stay with you for a lifetime. It is usually offered with a camping package with several other adventure sports option
Flying Fox
It is a famous adventure activity for fun and thrill. You will be harnessed and attached on wire rope with the help of a pulley at the higher end and then slide free fall on that wire rope. This is an exhilarating aerial journey. Camping in Mukteshwar
Ladder Climbing
Ladder climbing is another fun activity that involves climbing a rope ladder from one end to another with the help of special equipments. We will make sure you'll perform the activity under supervision of our qualified experts.
Rock Climbing
In this activity a person Climbs up Rock Mountains with all the muscular energy and adrenaline, while we take into account all the safety measures that must be taken before and during this sport. Come experience first-hand what rock climbing is all about with our experts who are fun, safe as well as energetic. Camping in Mukteshwar
Mukteshwar Photos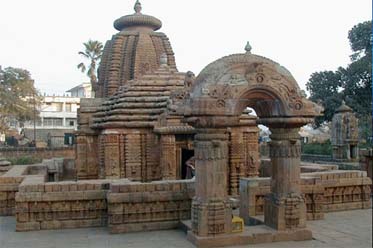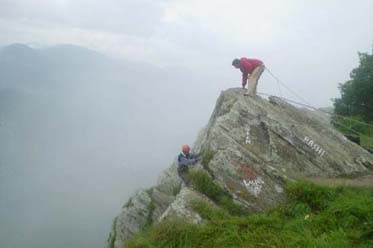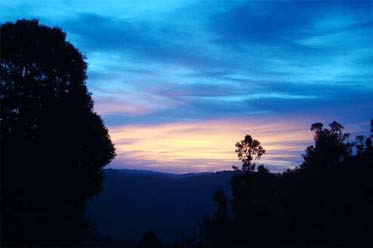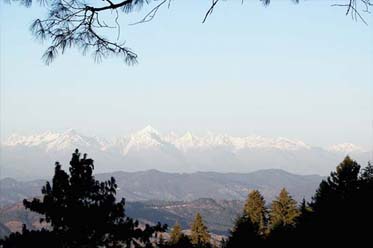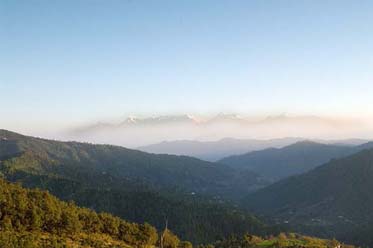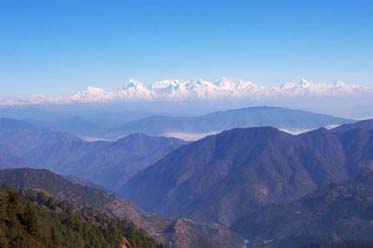 Previous
Next
Camping in Mukteshwar