INR 8000 per person ( Min 6 Persons)
All Meals – Breakfast , Lunch and Dinner
Exclusive transport Toyota Innova
All taxes
Day 01: (Delhi- Jim Corbett National Park)
Pick up from Delhi Railway Station/Airport, drive to Corbett. On arrival check in to your pre-booked hotel. The hotel is near as per your flexibility move for local sightseeing around Jim Corbett National Park, the famous Museum of Corbett National Park at Dhangari. Back to Hotel. Evening tea and Dinner. Overnight Stay at Hotel/ Resort.
Day 02: Safari Day
Wake up early to experience the surrounding forest and Riverside, the flora and fauna of the area. After Breakfast, drive to beautiful Corbett falls and Jim Corbett House at Choti Haldwani. Back to Hotel for Lunch. After Lunch leave for the Game drive in the National Park on an afternoon Jeep Safari. Back in the Evening. Tea and Dinner. Overnight Stay at hotel/ Resort.

Day 03: (Back to Delhi)
Wake up with a leisure Breakfast Bid goodbye to Tigers of Corbett and depart for Delhi with memories of life time trip.
Jim Corbett National Park
Jim Corbett National Park is located in between the two regions garhwal and kumaon of the indian state uttrakhand. it is one of the oldest national parks in india and was established in 1936 as haliey national park. the chief objective of this national park was to protect the endangered Bengal Tiger
Bengal Tiger, The Bengal tiger (Panthera tigris tigris), in the past commonly called Royal tiger,is the most numerous tiger subspecies. By 2011, the total population was estimated at fewer than 2,500 individuals with a decreasing trend. None of the Tiger Conservation Landscapes within the Bengal tiger's range is considered large enough to support an effective population size of 250 adult individuals. Since 2010, it has been classified as endangered by the IUCN. Says Wikipedia
. the jim corbett national park was named after the legendry british hunter and trackerturned conversationalist jim corbett. he played a vital role in its establishment. this national park was the first national park to preserve the endangered species and first park to come under project tiger initiative.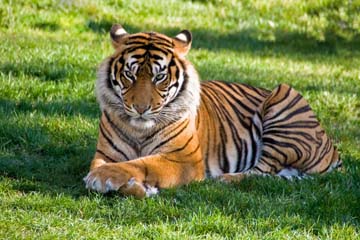 Jim Corbett National Park is chosen as the venue for the inauguration of this project tiger and has its own importance. spanned in the area of 1318 sq km it inhabits variety of wildlife and birdlife. this park is one of the major wildlife tourist attractions of india. the main wildlife attraction is the royal bengal tiger, sloth deer, sambhar, barking deer, wild elephants and Hog Deer
Hog Deer, The Indian hog deer (Hyelaphus porcinus) is a small deer whose habitat ranges from Pakistan, through northern India, to mainland southeast Asia, which inhabits much of the Indo-Gangetic Plains of Pakistan, northern India, Nepal, Bangladesh, southwestern Yunnan Province in China, all the way to western Thailand. Introduced populations also exist in Australia the United States and Sri Lanka. Says Wikipedia
Spotted deer are also found here. one can also get to witness animals like leopards, jackals, crocodiles, wild boars, gharials and monitor lizards if the climate is favorable. the sound of chirruping birds of wide variety makes the atmosphere alluring. this place is also inhabited by a wide variety of migratory birds making it a paradise for bird lovers in mid december. flora of jim corbett national park is also worth watching. most of the park is covered with dense moist deciduous trees. it includes sal[1], sheesham[2], kair[3], dhak[4], semal, rohini[5], chibila, bakli etc. apart of this the grasslands are also very rich and lushy. the weather of this park is almost temperate throughout the year.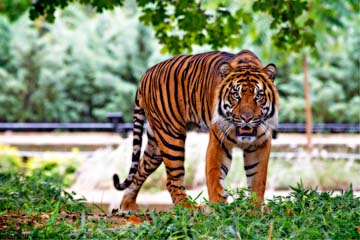 Jim Corbett National Park is divided into five main zones. these are bijrani, dhikala, domunda, jhirna and sonanadi. these are the main five tourist zones. wildlife safari in jim corbett national park is undertaken in these zones. all these zones are open from mid november to mid june except the jhirna zone that is open throughout the year. one can get to witness the royal bengal tiger from mid march to june. during the monsoons Jim Corbett National Park remains closed. the outside guide is not permitted as a guide inside and each group undertaking the jim corbett safari must have a naturalist guide with them. the bookings to the jim corbett national park can be done through online booking also.
Amidst the natural picturesque, observing the wildlife with bare eyes is undoubtedly a grand experience in itself. the jim corbett national park safari can be undertaken in a jeep or a canter depending upon the group size. the camp fires are not allowed but there are several rest houses in these zones where one can stay for overnight. it is an amazing experience to be traversing amidst this wildlife and natural aura. it's very beautiful and worth an experience to travel to this place and spend a few days in the laps of this national park.
ADVENTURE TREKKING TOURS