sightseeing

Sightseeing
Library for Tibetan Works and Archives, Dharamsala
Established in 1971, the library has 8 departments which include a museum, a school for thangka painting and wood carving, Tibetan manuscripts, Tibetan studies, research, publications, reading room and film documentation. The centre also holds regular classes in Buddhist philosophy and Tibetan language. The museum on the 1st floor has on display bronze images, thangkas, manuscripts etc.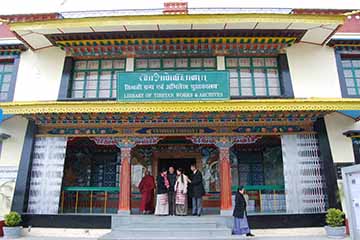 McLeodganj and Tsuglagkhang Complex, Dharamsala
McLeodganj, primarily a Tibetan settlement, was named after David McLeod, a lieutenant governor of Punjab in 1848. Its focal point, Tsuglagkhang complex, is the home of the Dalai Lama and the Tibetan government in exile. The complex overlooks the mountain ranges of Dhauladhar.  The area is known for its remarkable Namgyal Monastery where monks are seen debating, and the Tsuglagkhang temple with its beautiful images of Buddhist pantheons. The Tibetan Institute of Performing Arts nearby organizes a 10 day festival starting on the 2nd Saturday of April. There are lots of small shops at McLeodganj selling everything from souvenirs and costume Jewellery to traditional Tibetan carpets.
Museum of Kangra Art, Dharamsala
The Kangra art museum has an excellent collection Kangra miniature painting, rare coins, sculptures, anthropological materials, Jewellery, costumes and other Tibetan and Buddhist artifacts, some dating back to the 5th century.  The museum also has a school teaching miniature painting.
St John's Church, Dharamsala
Situated Forsytheganj and Mcleodganj, St John's Church is 8km from the main town area. The church is in a scenic forest surrounded by Deodar trees. A stone structure it has beautiful stained glass windows and a cemetery. The church is dedicated to Lord Elgin, one of the viceroys of India who died here in 1863.